Report of Meeting 22/10/22
SLEGS co-founder Bill Samson opened our meeting, after rounding off our last one.  He brought along a guitar which he built himself in 1988, and as the guitar is very similar to a Torres guitar owned by Francisco Tárrega, he played three pieces associated with him.  Firstly, he performed a study in E minor, and while the piece is often attributed to Tárrega, Bill's research tells us it first appeared in a book published in Brazil.  Secondly, he played a study in B minor by Fernando Sor.  Bill, influenced by a historical recording of Miguel Llobet, played the piece with inégal, which suited it very well as it bounced along under his fingers.  Finally, we enjoyed a Pavane in A major, which Bill likes to call 'a study in glissando'.  Bill used the whole range of his guitar as he slid up and down the neck, delivered precise and clear harmonics, and showed us that his guitar sounds as sweet today as it did when it was built.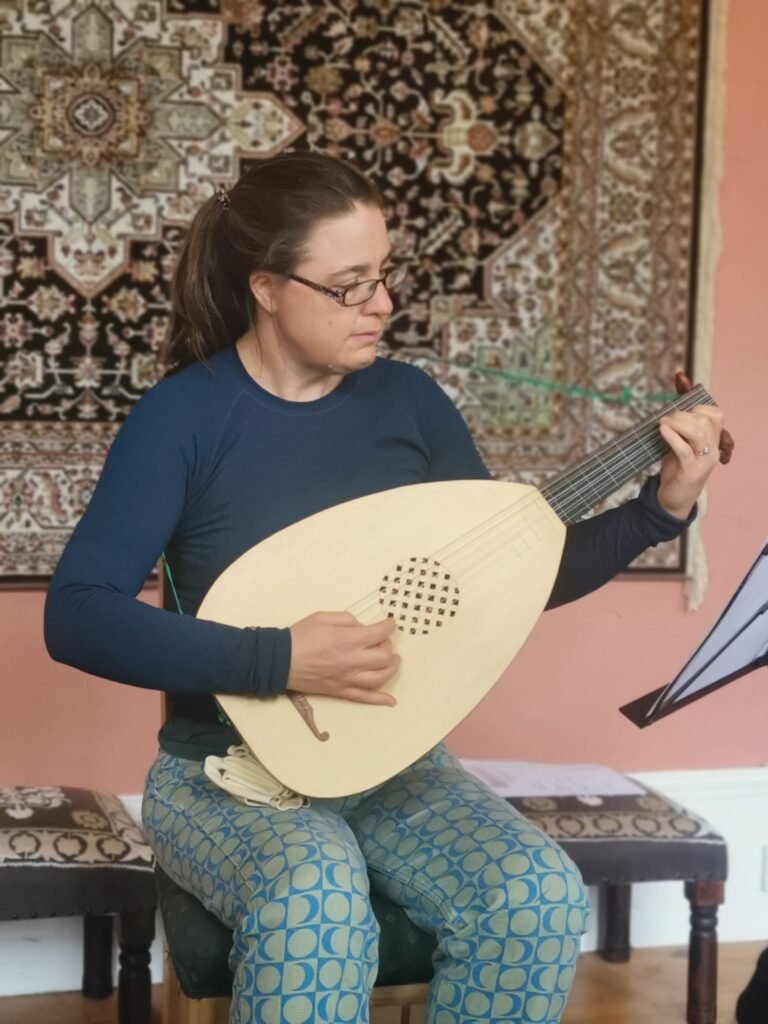 Joanna Allsop performed for us next. She told us that coming to the lute from other instruments, she was amazed by the quality of the composers who are relatively unknown outside of early music, with one such composer being Hans Neusidler.  Joanna played a Neusidler Preamble on a six-course lute which was built by her father.  The instrument itself features a bowl made of yew ribs, which we all agreed looked and sounded stunning.  Joanna played the piece very clearly and confidently, while demonstrating an excellent thumb under technique in her right hand.
Third to play was Alastair Merrill. Alastair was brave enough to sight-read a couple of pieces on an unfamiliar lute at the July meeting, but this time had his own lute.  The instrument itself was built by Larry Brown of the U.S.A in the 1980s, and then Alastair had slight modifications made to the instrument by Tony Johnson once it came into his possession.  He treated us to two pieces, both from the Betsy Small intabulations published by the lute society (UK) in the Lutezine.  Alastair played the two Skye Airs with great clarity and a gentle touch to get the best out of the instrument.  The pieces really made us long for the highlands and islands on a damp and dour afternoon in the heart of Edinburgh.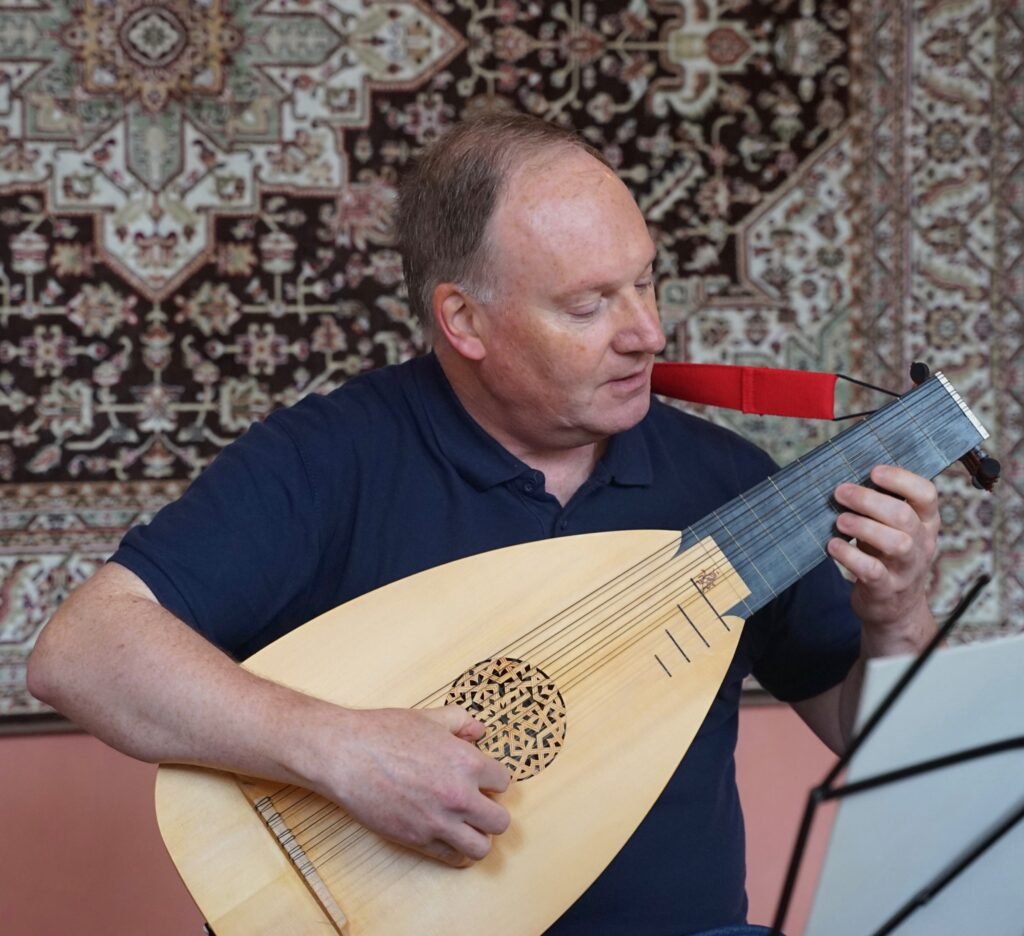 Bruce Roth made his performance debut at this meeting.  Bruce told us that this was his first performance to any audience, not just to us.  He played two pieces, 'Galliard (Rocha El Fuso)' and an intabulation of 'Passtyme With Good Company', with both pieces in tribute to 'that great composer, Anonymous'.  Bruce got a great tone from his Barber and Harris lute, showing us the wonderful bass register and sweet highs of the instrument.  A wonderful first public performance, well done Bruce.
Following Bruce, Glen Robertson delighted us with some early sixteenth-century lute music. First, he played 'Gott Behüt Dich Herchen' from a 1530s Berlin manuscript, followed by a 'Recercar' and 'La Strepa Fava' by Marco Dall'Aquilla, both from a Venetian manuscript circa 1520. Glen captured the improvisatory freedom of the recercar and used deft ornamentation and arpeggiation to great effect in the arrangement of local songs. The acquisition of new renaissance guitar has not taken anything away from Glen's lute playing, which continues grow in confidence with each performance.
Society chair, Eric Thomas, followed with two compositions from Francesco Spinacino's Libro primo.  Eric told us how some have suggested that Spinacino did not actually play the lute, but instead was only an editor who collected and compiled his two lute books. However, Eric does not subscribe to this theory saying how there is an underlying logic to how Spinacino chooses to intabulate compositions over both his prints.  He played a 'Recercar' and Spinacino's intabulation of 'La Bernadina' originally by Josquin des Prez.  The first piece highlighted quick, sharp, chord changes, and the second featured more scale runs and melodic passages.  Eric made great use of the upper frets on his instrument and impressed us all by bringing the pieces to life. 
Sean Shibe was our final performer of the meeting.  He performed 'Mille Regretz', another composition by Josquin des Prez, this time in an intabulation by Spanish vihuelist Luis de Narváez.  Sean's playing was incredibly expressive and emotive and was performed with expert articulation and delicate rubato. It was a truly captivating performance, and we all hope to hear Sean play for us again. 
Our invited guest was Sara Salloum, a third year PhD student at the University of Durham, who gave a talk around her research on Margaret Board and followed with a performance of selections from the Margaret Board lute book. Sara fascinated us with details about Margaret's life from her archival researches, with Margaret, in spite of her clear virtuosity on the lute, giving up the lute at an early age once she was married. Sara explored the context of lute books such as Margaret's and the role they played in the lives of woman in the seventeenth century. The performance focussed on rarely heard pieces from the lute book, with pieces arranged into small suites focussing on a particular aspect, such as ballad tunes or dances. Sara's playing, on a Tony Johnson lute, was exquisite with her extensive and varied left-hand ornamentation faithfully reflecting the ornamentation found in the Board lute book and Margaret's own virtuosity. Following the performance there was a lively discussion with Sara answering the many questions members had about her research.