Report of Meeting 19/02/2022
This was our first meeting with a new format incorporating our regular player's session followed by lunch, a short discussion of and signing of our constitution, then a talk and then, after cake, brownies and prosecco, a recital. The playing session was arranged in approximate chronological order of the pieces played.
Glen Robertson started us off with a piece from the Skene manuscript that included his own, well thought-out and idiomatic variations. I will not go to bed till I die sounded great on his 8 course EMS lute. His performance was graced with his now trademark nifty ornamentation – what was referred to as 'shakes' back in the day but which one wonders may have been called 'shoogles' in Skene castle. He then played a Ballet by von Harling from the Lute Society's collection Easy to Intermediate Pieces for Renaissance Lute. He followed with a difficult Pavane – played with apparent ease – the sole surviving known piece by Ludovico da Bergamo from a Venetian manuscript of 1520. Glen has been teaching himself the thumb under, early renaissance lute technique played with the flesh. This has improved the clarity of his tone production and his playing as a whole is going from strength to strength.
Next, Chris Jupp played a 6 course lute by Luke Emmet. To warm up, Chris played a prelude by Pierre Attaignant from the first lute book ever to be published in France, Tres Breves et Famileres Introduction of 1529, followed by the three part basse danse La Brosse. He closed with an interesting fantasia by Giovanni da Crema published in his own lute book in Italy and later by Phalese in Leuven. It featured an idiosyncratic rhythmic motif with angular melodic phrases woven into the counterpoint.
Eric Thomas followed with two famous and complex fantasias from the next century, published in Dowland's Varietie of Lute Lessons (1620) and played on an 8 course lute by Sutherland. The first, by Laurencini da Roma, was played with some well chosen dynamic emphases and fluidly despatched with very clear articulation in the bass. The second fantasia was by Huwet displaying some delightful chromatic twists. A notable feature of Eric's playing throughout was his very effective articulation of chords using a technique of rapid arpeggiation at key moments. Impressive and most enjoyable!
Stuart McLuckie played 5 pieces on his 11 course lute. After the anonymous Ouvrez Moi La Porte, came Joy to the Personne, a Scottish tune arranged by 'Mr Beck' in the Balcarres manuscript of 1695-1701. Ornamentation here sounded spot on. After that came a trio by Weiss, an anonymous Entree and La Belle Angloise. Stuart's playing on the Baroque lute shows improved confidence with the always tricky bass notes – no doubt due in part to Stuart's regular use of the thumb rest stroke – and has greater fluency overall. His Baroque playing is quickly matching the musical skill he has developed over many years on the Renaissance lute.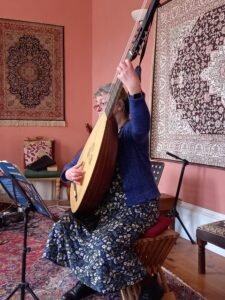 Luisa McMinn joined us for her first meeting with us and it was delightful to have a theorbo in the house – a rare occurrence so far. She played two pieces by Robert de Visee on her James Marriage instrument – a prelude and a minuet from Francesca Torelli's Tutor for Theorbo. Although a little nervous, she needn't have been. Her tone was great, hammer ons and offs were clearly articulated and her bass runs were rhythmically precise. We were treated to a repeat of the minuet at the end, by which time she played in a more relaxed manner and gave us a really musical and convincing rendition. Great stuff. We hope this will be the first of many more appearances in our playing sessions.
We had a fine range of lutes from every period – barring the mediaeval – but guitars were conspicuous by their absence. Lets have some guitars too next time folks!
Due to shenanigans with rail services Bill Samson was unable to join us so we tried but didn't entirely succeed in effectively live streaming the event to him. We'll work on that for future streaming.
After lunch, committee positions were confirmed and our constitution was ratified by quorum and signed by Eric, our Chair and Phillip, our treasurer. Chris and Glen will be 'ordinary members' helping out with tasks as and when, whilst Glo will be chief cake-maker.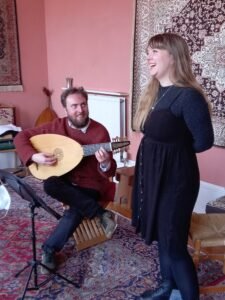 Then followed a popular and fascinating talk by Roslyn Potter, a PhD student at Glasgow University, introducing us to her enquiries into the music and song manuscripts by women in 17th century Scotland. There followed two delightful song performances with Eric Thomas accompanying on the lute. First, Joy to the Personne, documented in several important manuscripts including Blaikie, Leiden and, as we heard in our playing session, Skene. Then we heard the song Through the Wood Laddie taken from the manuscript of Margaret Wemyss of Fife, compiled whilst she was still in her teens. Roslyn and Eric showed that they are already more than a duo in the making – their mutual musical understanding made it seem as if they had played together for quite a while. We hope we didn't overwhelm Roslyn with our many questions and that she returns to sing again, perhaps venturing into some of the bawdy repertoire she is researching.
At the end of our meeting Gordon Ferries gave our first recital. Playing on a beautiful Alexander Batov vihuela, he explored the contrasting fantasias in the second books of Luis Narvaez and Francesco da Milano respectively. Gordon helpfully guided us in advance through the contrast between their two styles – the former being in a Josquin style of counterpoint that could equally well have been sung, whilst Francesco's pieces were more idiomatic to plucked instruments and had a more improvisatory feel. This was well demonstrated as Gordon played his way through these pieces with his characteristic panache and delicacy of touch, clearly bringing out the different voices of counterpoint. Matched with the longest applause of the day, this was a thoroughly enjoyable finale to end the first session in the new era of our Society.