Meeting Report – 20/05/2023
Our first meeting of 2023 opened with Stuart McLuckie playing three pieces on his 11-course baroque lute.  He played a Trio and a Minuet by Weiss, separated by an anonymous Jig.  Stuart told us the Jig is listed as a "beginner" piece by the Lute Society, but we questioned this, maybe there are no truly easy pieces for this instrument!  Stuart showed great precision with his thumb on the bass courses and decorated the pieces very tastefully. Impressively he played all three pieces from memory.
Sara Salloum joined us once more to treat us to two pieces played on an 8-course Renaissance Lute.  Sara first played "Mille Regres", in a less common German intabulation by Hans Gerle.  Sara demonstrated considerable skill playing the intricate chord shapes and large stretches that were required for her fretting hand.  Sara then played John Johnson's "Flat Galliard" from the Mynshall lute book, originally the lute book of a young fourteen-year-old boy. The manuscript itself is filled with doodles and signatures from the student, creating a sweet and personal experience when reading from the source.  Sara played so well you wouldn't even realise she was playing on a borrowed instrument after suffering the lutenists nightmare, a broken chanterelle on performance day!
Luisa McMinn had two surprises in store for us.  Firstly, she wasn't playing her usual theorbo, instead she had brought a 6-course viol with her.  Luisa has been practicing on the instrument as she has an upcoming viol consort performance.  The second surprise was the piece itself, "Surprise", from Lynda Sayce's excellent collection of songs with continuo parts, "Getting to First Bass".  Luisa was accompanied by Eric as she showed off her superb bow work, making the instrument sound very sweet.  Luisa had to transpose up one semitone as she was tuned to 415 while Eric was tuned to 440. She let us know of a clever trick to transpose the piece, she simply covered the original treble clefs with sticky notes and replaced them with alto clefs. 
Eric Thomas then performed solo for us.  Eric told us of his research into how renaissance musicians came to adopt the "0" numeral into their tablature, it started to be used in Europe in the 1490's and was later used in Italian tablature to denote an open string.  Eric then performed three pieces for us.  Firstly "A Scots Tune" from the Jane Pickering Lute Book.  Eric captured the airy and delicate nature of the piece very well and played with beautiful decoration.  We were then treated to renditions of "A Port" and "Canaries" from the Straloch Manuscript.  Both pieces required making use of the whole range of the fingerboard and sounded excellent in Eric's hands.
Glen treated us to three tunes on his renaissance guitar, which is becoming a staple of SLEGS meetings. He opened with "Galliard 10" from Guillaume Morlaye's first book of 1552, and then continued with "Pavane Si Je M'enuois" and "La Roque el Fuzo" from Adrian Le Roy's first book from 1551. Glen has developed his own unique style of ornamentation on this instrument, which emphasized the dances sprightly rhythms and gave the performance his own personal stamp.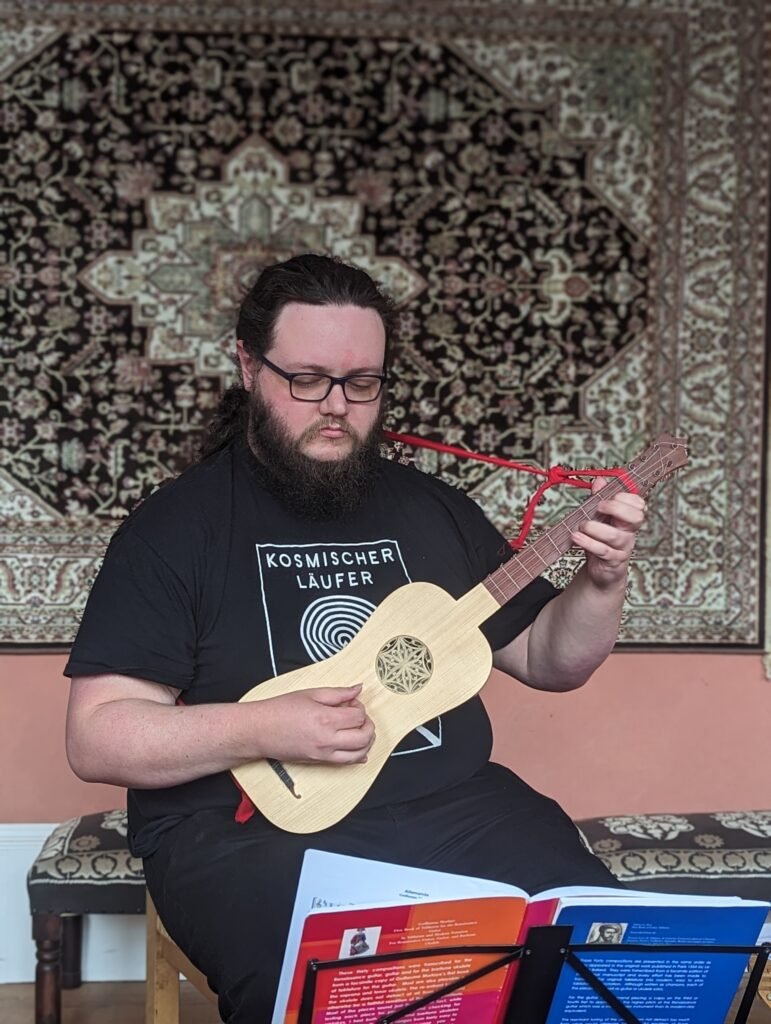 Bill Samson was delighted to show us his latest build, a 6-course Vihuela.  Bill told us that the historical definition of "vihuela" is unclear and debated among luthiers and musicians,  but if Bill built it and says it's a vihuela, then to us it is indeed a vihuela!  The body of the instrument takes its shape from the Diaz guitar, and the neck and pegbox were built to suit him with a 556mm scale length.  Since there is evidence of the vihuela in renaissance England, Bill first performed a Dowland piece, "Mrs. Winter's Jump".  He then played "La Gamba" and "Guardame Las Vacas" by Narváez, although Bill refers to the final piece in the Scots translation as "Luk Efter They Coo's"!  The vihuela sounds beautiful, and we are all jealous of Bill's ability to build and play such amazing instruments.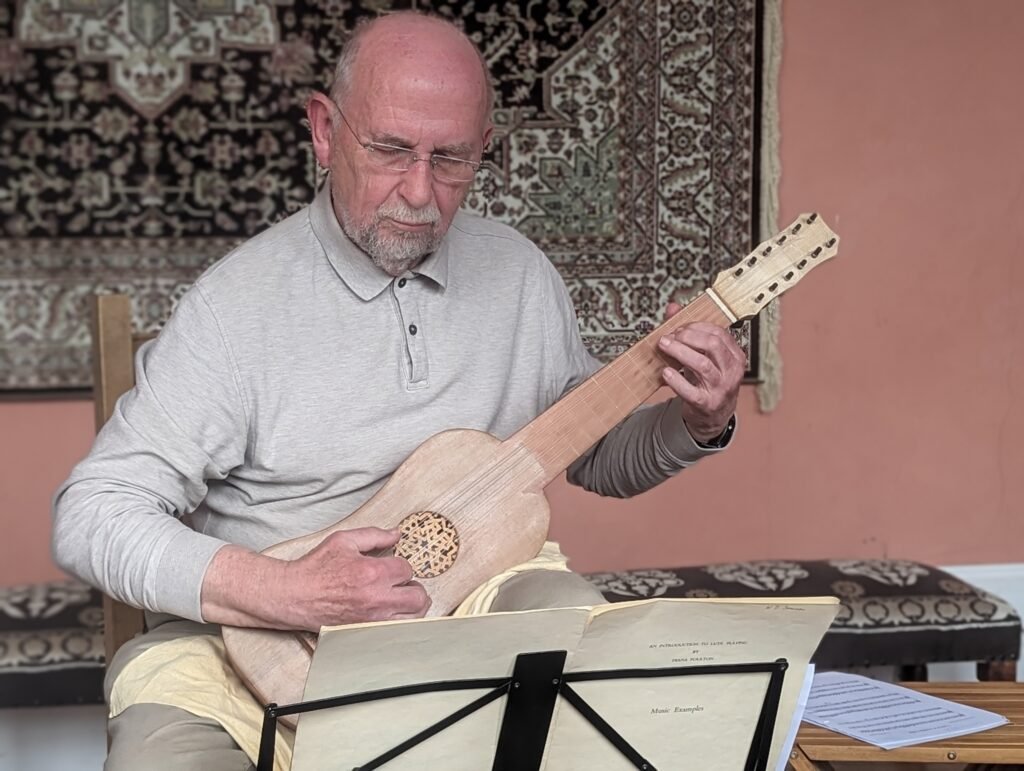 We were delighted to be joined by co-founder of the society Rob MacKillop, meaning that alongside Bill we had both of honorary members in attendance.  Before playing his rehearsed piece, Rob borrowed Bill's vihuela to demonstrate that "Luk Efter They Coo's" follows the same progression as "Greensleeves", known as the Romanesca ground bass, and played a short medley over this ground.  Rob then switched over to a D&A Roudhloff Melophonic Guitar built in the 1850's.  The guitar has beautiful Brazilian Rosewood back, sides, and neck with a mahogany lining inside the body which gives it a very deep and satisfying tone.  He then played an Etude by Matteo Carcassi, an attractive piece which featured many arpeggios and lilting appoggiaturas.  The audience was struck by beauty of the tone of the guitar and Rob's no nail technique of classical guitar playing.
Alastair Merrill rounded off our meeting with three pieces played on his 8-course Larry Brown lute with modifications by Tony Johnson.  He played three pieces from the Straloch Manuscript.  Firstly "Hench Me Malie Gray", followed by "Canaries" and finishing with "A Port".  Alastair has been a great champion of Scottish music since joining our meetings and we're all happy to be reminded how great these pieces can sound!